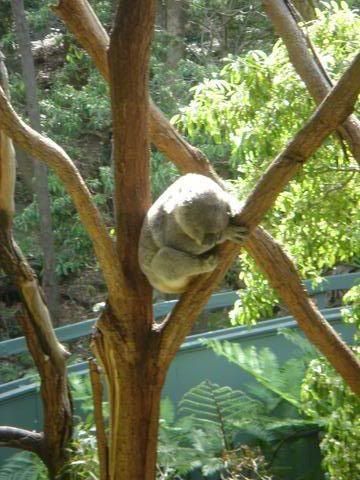 A koala at the Taronga Zoo, Sydney
Australia was amazing. The cities were beautiful, the accents were cute, the food was delicious and the wine was even better. The people, though. Well, you'll see.
Prologue: Back in, say, 95? ish? mAc was a young punk who went to Europe on a Kontiki Tour, and made friends with an Australian girl named Ange. At the end of the trip, he joined Ange in London for a few days, where he met her friend Sam, and celebrated her 21st birthday with her. A year later, Ange arranged for mAc to come out to Australia, planning his entertainment, his accommodations, the works. Ange's mom was sick at the time, so she put him up with her friend Sam, whom he'd met for a few days at London. Sam is the oldest of three girls, and lived at home at the time of mAc's visit (the majority of Aussies go to uni locally, and live at home to save money until their early 20's or so). Sam's parents are Dot and Al, and her sisters are Vanessa and Sarah. Ya follow? Good. This is all relevant. mAc fell in love with this family, and was already fast friends with Ange (who also came to see him in Seattle), and came back to Melbourne almost immediately after this first trip. There he met another of Ange's friends, Clare. That was about 8 1/2 years ago. They've kept in touch all this time. And on this trip, I found out why.
Chapter 1: Sydney
Friday 8.25
Arrive at airport stupid early. Our flight is scheduled to depart 11:50 pm; it actually departs much, much later.
Saturday 8.26
Start out flight miserable--too tired, cranky about the "dinner" service happening at 2 am, etc. Eventually take a Lunestra and sack out. Wake up to discover that, not only does Qantas provide each traveler with a little travel kit (sleeping mask, socks, toothpaste/toothbrush combo) in your seat, they also are kind enough to drop off a whole bag of yummy snacks at your feet while you sleep.
Sunday 8.27
Arrive in Sydney! It's about 8 a.m. Sunday, but my body still thinks it's late afternoon Saturday. First things first: buy a cheap
Vodafone
! Next: We take a van to the
Holiday Inn Potts Point
(Kings Cross), which turns out to be lovely. Next, call James, check out his flat & turret, go out for a delicious brunch of fish & chips and embarrass self trying to order coffee (I choose a "long white," fyi). Enjoy the afternoon with James, who by the way is a friend of a friend whom we met in Hawaii, actually. He's a fabulous man with a thick accent who tickled our funny bone every time he said, "Nah-oy-eece!" (Nice.) He recommended our hotel, gave us a tour of cute parks and views of Sydney we otherwise wouldn't have known were there, pointed us towards all the best restaurants and talked out ears off. We could have done Sydney without James, but who would want to??
We follow up our walk with James with some down time at the hotel, then force ourselves out to a yummy Thai dinner, followed by beers at the local, very crowded pub. We try to stay awake as long as we possibly can, and only go to bed when we think we're going to DIE. It's about 7 pm.
Monday 8.28
Wake up at 4 a.m. Try to go back to sleep. Enjoy a lazy morning, then head out for coffee, some takeaway brekky, and a walk into the city. Take obligatory photos in front of famed opera house.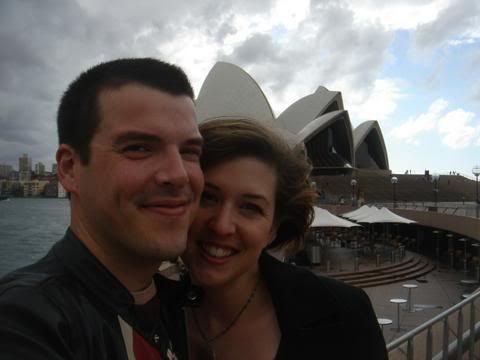 Yup, there it is!
Arrive at the
Circular Quay
around 10 a.m. and catch a ferry to the
Taronga Zoo
. Take the ski lift thingy to the top of the zoo, and donate a little extra money so we can get a guided tour of the Australian animals by a volunteer named Diane, who is delightful. Learn about platypus' poisonous talon, watch an active tree kangaroo hop from tree to tree, and watch a seal deposit a plastic bottle in a recycling container. Reach bottom of zoo, buy souvenirs, catch ferry back to Sydney. Explore big-ass souvenir shop and purchase cute things for my niece Sydney's birthday present. Walk into downtown, then end up taking the extra long route back to the hotel and killing my legs and feet. Have a hot bath at hotel, where muscles seize the hell up, then get ready to meet James for dinner. Go out for German food, drink yummy Budvar and mistakenly order the oily spaetzle. Feel sick. Go back to hotel to pass out. It's about 9, however, so we're doing much better.
Tuesday 8.29
I am exhausted and my leg muscles are killing me. We stay in the hotel in the morning, order room service, and watch bits of Emmy coverage here and there to find out who won what (Yay! The Office!). I finish my second Augusten Burroughs book,
Dry
, so I can give it to James. Watch episodes of Miami Ink, and get excited about future tattoo expedition. Finally leave room, swing by the post shop to mail Sydney's birthday present, then hobble over to
Darling Harbour
. Have a look, then sit and order a late lunch of
meat pie
and hot chips and VB. Take the much shorter route back to our hotel. Meet up with James and grab yummy Indian takeaway and some beers from the bottle shop, which we take back to his apartment. Spend a long evening enjoying our meal outside and chatting about the
Gay Games
, our families & everything else, then wind up playing with Google Earth. After big big hugs, we head back to the hotel. It's our last night in Sydney.
Chapter 2: Adelaide

Wednesday 8.30
Off to Adelaide! Or, as James called it, "Sadelaide." Or "Deadelaide." It's a sleepy little town. After a fast & furious packing frenzy, we catch the hotel shuttle to the airport a typical American 2 hours prior to departure. They took our bags and handed us boarding passes with hardly a glance at our passports, and waved us through security with shoes and jackets on. From check-in to gate took 5 minutes. When we arrive in Adelaide my nerves set it, as I'm about to meet the first of mAc's Australian friends, Sarah. I needn't have worried. Blonde, bubbly, fast-moving, sweet, sincere, and beautiful, Sarah is the very definition of Darling. In addition to being quick to laugh, Sarah is also fond of saying, "What a crackup!" whenever something is funny. She says it a lot, and it is totally endearing and never annoying. She picks us up from the airport in a flurry of hugs and excitement, and we talk a mile a minute all the way to the stylish condo she shares with herfiancecé Ben. She shows us where our room and the
Tim Tams
are (in the fridge!), books our driver for the next day's wine tour, and goes back to work; we seize the opportunity to relax and watch Kill Bill. When she gets home, we go out for dinner at a great restaurant where we eat yummy steaks, discover
dukkah
, and drink a fabulous
Two Hands "Gnarly Dudes" shiraz
. We consider going home and having more cocktails, but stop off at a convenience store for
Magnums
(ice cream treats) instead. After a bit of a chat and some dancing around to the CDs we gave them, we all go to bed.
Thursday 8.31
The nice guy from
Echidna Tours
, Brian, picks us up at 9 a.m. sharp and after a guided tour via bus microphone (we can hear him fine without it, but he does it up right), we arrive at our first winery at around 10:30. We are the only passengers on a 35-seat bus, so we get a pretty detailed tour of Adelaide.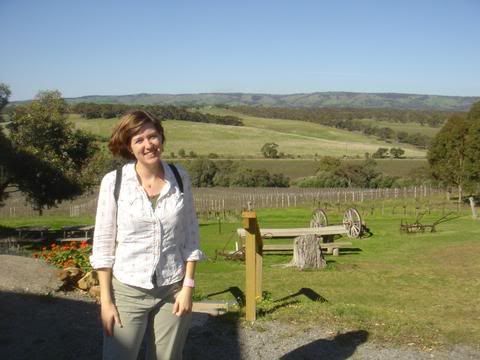 Beautiful! Gorgeous! Wish you were here!
For this day, the weather is perfect; the wine delicious. He takes us to 6 wineries (
Paxton
,
Chapel Hill
,
Coriole
,
d'Arenberg
,
Kay Brothers
and
Woodstock
) and lunch, and we buy a whopping 22 bottles of amazing wine. (Although it's safely arrived at the house today, it was a huge hassle getting it home to the states. We never could have done it without Sarah, who was so generous with her time on that project.) When we get back, we go out for a delicious Greek dinner with Sarah & Ben, then go around to a nearby pub for cocktails. Ben, by the way, is a young, dapper gent who is funny, stylish, smart, competitive, and completely charmed by his bride-to-be. After a fun evening of stories and drinks, we convince them to let us crash their honeymoon in Vegas this spring. Satisfied that we'd be seeing them both again soon, we go to bed.
Chapter 3: Melbourne

Friday 9.1
We end up not shipping our wine off in the morning as planned(see above, re: "hassle"), and just catch a taxi to the airport to go to Melbourne instead. This check-in/security situation turns out to be much longer, and we allowed less time, so there's less waiting around. In Melbourne, Sam picks us up, and I ride froggy-style in the very back seat behind her baby son Jesse. We get back to her house and get settled with some snacks & beers, then meet her husband Michael and her daughter Pippa (her full name, not a nickname, HOW CUTE IS THAT??) when they come home. (They also have a black poodle named Buster who looks like a Muppet.)
About Sam's family: You know how you hear people described as "good people," even a singular person? Sam and her family are Good People. Her daughter Pippa is a precocious, almost-2-year-old with angelic blonde hair, blue eyes, and rosy apple cheeks. She's also going through a possessive streak, and was calling us "my friends! Pippa's friends!" before we even arrived. Jesse's a big baby with a big head, and he's just happy to be here, y'all. He's seriously one of the most relaxed little dudes I've ever met. Michael, or "Sutho" is the guy who would do anything for his family, anything for his friends, and who will keep you up all night drinking or talking if you let him. I think professionally he's actually a VP or, like, The VP at his company, and I imagine he's the epitome of professionalism at work. After work, he loves easily and is easy to love, he's unphased by poopy nappies, he's delighted by his kids, and he remembers to buy his wife a bouquet of her favorite flowers on her birthday.
Sam herself... Sam is just gold, pure gold. I felt like I could talk to Sam about anything, and did. Sam has a special smile reserved just for her kids, one that lights up her whole face. It's pretty much the cutest thing ever. Further description of the beauty and generosity that is Sam to follow on 9.2.
For dinner, Sam, mAc & I go to the
Chocolate Buddha
at Federation Square to meet Ange and Clare, and I get nervous again. As soon as we meet, Ange blurts out that she was feeling nervous too, and I decide instantly that I love her and we are BFF. Dinner is fun and interesting--not as comfortable as later dinners will prove to be, but fun.
Saturday 9.2
After a lazy morning, Clare & James come to collect us to get us out of Sam's hair while she prepares for what we think simply be a big family dinner. We go shopping and discover
Fitzroy
and
Queen
, and have lunch at a yummy Vietnamese restaurant Clare's parents particularly like (they love that they can just go in and tell the proprietors to bring them anything, whatever the special is, and they'll always bring them something delicious. Even things that aren't on the menu. The proprietors love Clare's parents because, as they say, "They'll eat anything! Even mistakes from other tables!" Awesome). We swing by C&J's place to drop off James, who's running a 5k the next day, and meet their dogs Chops and Yoshi. We take off for Sam's and arrive precisely at 7:15, just in time for the most beautiful, generous, overwhelming night ever.
At first, we notice a big white wreath of silk flowers and ribbons and tulle on the door... and a sign that says, "Welcome to your Big Fat Greek Wedding." Then the door opens, and a group of people all dressed in the tacky suits and ugly bridesmaid dresses yell, "Surprise!" They threw us a WEDDING. There is tulle wrapped around the chairs with bows on the back. There's a cake with hot pink frosting and Dot & Al's cake topper from their wedding. There are favors at each place setting, there are appetizers, there's champagne, and there's a FEAST. THIS is what Sam was doing for us all day. Can you see why I have a hard time putting this remarkable woman into words? They give us fabulous tacky presents and Al and Ange toast us with some of the funniest and touching speeches ever written. We dance, I toss the bouquet, the whole shebang. Overall, it turns out to be pretty much one of the most overwhelming experiences of my life. After the guests go home we stay up late with Sutho who gives us "Cowboy Cocksucker" shots and plays the Australian Battle of the Sexes board game with us. (I may not know what Netball is, but I still kick their butts.) We finish off the night with a couple of glasses of
Berocca
, and we were off to bed.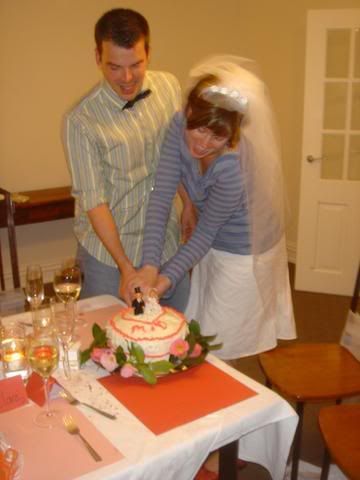 Cutting the cake, again, this time in veil. In Australia.
Sunday 9.3
Celebrate James's birthday at a pub, meet Leia, Dan, Milton, & Mary. Get tired and a little cranky. What with the non-stop drinking and the hangovers and all.
Monday 9.4
Clare and James have taken the day off to celebrate James's actual birthday, so we kick off the day with
yum cha
downtown, then spend all day drinking. . . Champagne! Throughout the day we also throw in a beer, a cocktail, and several espresso martinis, plus a truckload of food. And even more champagne. Get pissed, vomit, pass out. Wake up 2 hours later and brush teeth. Pass James, Clare and mAc in the night, as we were all evidently in and out of our rooms and the bathroom and wandering the halls like some kind of
Benny Hill
sketch all night.
Tuesday 9.5
Lazy day, spend hungover morning inside. Get meat pies for a late lunch. Do laundry, watch TV, feel sorry for ourselves. Have delicious roast lamb & veggie dinner with wine when Clare & James get home. Vow to learn how to cook roast lamb with veggies.
About Clare & James: Clare is, above all else, a Lady. One capable of singing Fleetwood Mac into a spoon, playing with her food and making fart jokes, but a Lady nonetheless. She has a beautifully refined accent, likely from years of private Catholic school. She hates that Judd Nelson ever uttered the line, "
Claire is a fat girl's name
," but has a crush on John Bender anyway (who didn't?). She's beautiful, clever, funny and generous. Her husband James is a doll with a collection of funny t-shirts, a passion for champagne (see above), and a knack for photography. He seems to observe the goings on around him with a certain level of amusement that I find charming (then again, this could have just been his "I'm surrounded by loud Americans" expression), and he couldn't have been more delighted by the new night vision monocular that Clare got him for his birthday.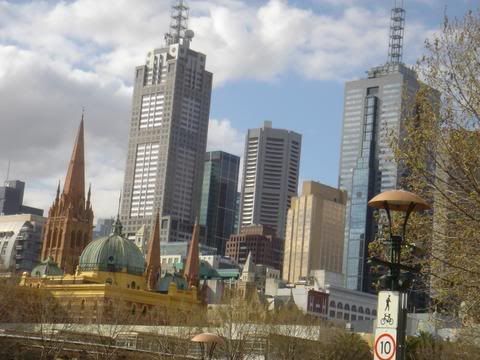 Beautiful downtown Melbourne.

Wednesday 9.6
Shop downtown Melbourne in the rain. Discover Dangerfield and Quick Brown Fox, buy a new long coat for fall. Have drinks with Ange, her cousin Maria & her friend Stefania at pub. Leave Clare & James's umbrella
in the taxi
after hauling it around all day. Like a dumbass.
Thursday 9.7
Lazy day.
Laksa
dinner with Clare. Go to the movies with Ange and enjoy our new favorite Aussie film,
Kenny
.
Friday 9.8
Walk the dogs, then eat a late lunch at our favorite new cafe/bar,
White Rabbit Record Bar
. Discover the Mad Hatter cocktail (it's like a bloody mary, but there's less crap in it and it's more refreshing), and
Joan as Police Woman
. Go into town, buy CDs and a new sweater, spend too much time in Target, rush home to meet up with Ange. Take off for
Great Ocean Road
. Make a wish on the
West Gate Bridge
(because it's as close to God as you can get in Melbourne, Ange says). Drive through Geelong and annoy Ange by pronouncing it like we're from Texas (it's pronounced, "ge-LONG" with a soft g; we say "GEE-long" with a hard G, like "GEE-long, li'l doggy!" Because, like I said, we're annoying.) Arrive in Anglesea, check into the coldest hotel ever, make spa appointments. Meet up with everyone at the bar, then go get pizza. After dinner, Ange, mAc and I go out to shack-like farm in the middle of a cold, muddy field in
Torquay
to party with stoned surfers. Hang tough for about 2 hours, then go back to hotel, where the heat doesn't work. Overall? A cold night.
Saturday 9.9
Kick off the day with massages at the spa. Eat the most delicious burger ever for lunch. Hit the road for Port Campbell. Take pictures, sleep. Arrive at cute
Best Western
, enjoy drinks in Foxy's Bar. Fabulous seafood pasta dinner, followed by many additional drinks. Clare and I spend all our 1 and 2 dollar coins on a jukebox so we can dance around to Christina Aguilera and Neneh Cherry. mAc falls after attempted piggy-back ride from James on the way back, hurts leg. The movie on TV at hotel is some
weird Roman thing with Robin Williams and John Turturro
that makes me uncomfortable, it's so bad.
Sunday 9.10
We're woken up by room service brekky. Hit the road & see the
12 Apostles
and the beach where the
Loch Ard
tragically crashed into the cliffs. It's all beautiful and peaceful and the weather is perfect. Get lunch in Apollo Bay on the way back. Relax with a laid-back dinner of snacks & things at Clare & James's place, and go to bed early.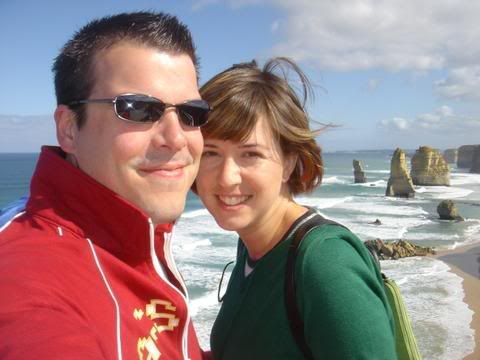 mAc, me, some Apostles.
Monday 9.11
Get dressed in what will turn out to be the next 3 days' clothes, take cab back to Fitzroy. Frenzied shopping ends at Queen where I spend stoopit amounts of money on the some of the coolest clothes I've ever seen. Big dinner at nearby restaurant, meet up at Ange's apartment. Go to her movie fundraising event, see some surfers from previous Friday's party. Watch Faster Pussycat Kill Kill for the first time.
About Ange: Ange is a force of nature. She not only runs her own PR company (and teaches college classes), she also founded a
foundation
in her family name to raise money for families dealing with cancer, specifically children. She made a deal with a young girl going through chemo that she'd dye her hair pink if the girl stayed in remission for a year, and currently takes meetings with government officials with hot pink bangs. She is amazingly strong and brave, yet not afraid to admit when she's stressed or freaked out. She's remarkably human, and a remarkable human. I am completely impressed with her, I admire what she does, and am inspired by her achievements, character and attitude.
Tuesday 9.12
Ange is also a fellow consumer of beauty products, and Tattoo Day starts by using as many products as possible to make me pretty/nice smelling, since we forgot to pack clothes. Take off to
Chapel Tattoo
in Prahran, consult with our tattoo artist, Kate. mAc gets his grenade, which takes awhile so I get a yummy lamb-burger for lunch at
Grill'd
. Then I get my tattoo and it hurts like hell. To distract myself from the pain, I play a little game called, "What feels better than getting a tattoo?" For example, being licked by kittens, snuggled by bunnies, or tickled gently with feathers all feel better than getting a tattoo. It turned out really pretty, though.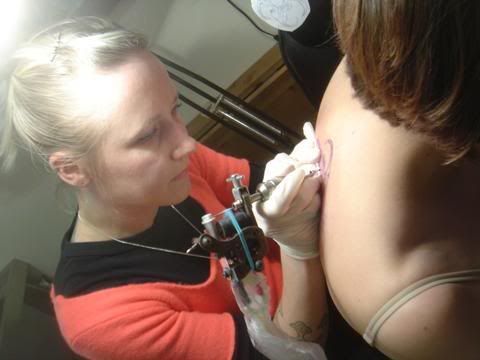 This did not tickle.
Post-tattoo, we pick up some nappy cream (it helps with the healing) and a present for Sam, and take the train into downtown to meet up with Sutho. He brings us back to his house for Sam's BBQ birthday dinner, and we enjoy a nice evening with the family.
Wednesday 9.13
Sam takes us back to James & Clare's after quick showers to change, and then we're off to the
Melbourne Zoo
. Pippa & mAc get along famously. After the zoo I take a quick disco nap while mAc & Clare walk the dogs, then it's off to Gaylord's with James, to meet Ange for Indian dinner. The beer tastes like caramel, and the food was delicious but I don't remember what I ate.
Thursday 9.14
Our last day!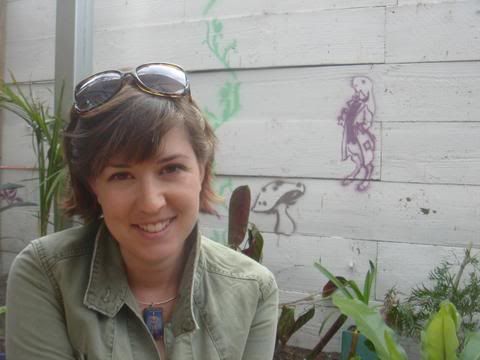 The back patio at White Rabbit Record Bar.
We pack, shower, and have brunch at White Rabbit (baked eggs with prosciutto, Mad Hatter, espresso martini), then go downtown. I get beauty products from the highly-recommended
Aesop
and we go see Monster House, which is very cute. We buy tons of tacky souvenirs, then meet James & Clare at a different
Federation Square
restaurant, where we treat our generous hosts to a big dinner. Ange is to meet up with us later, so we go back to White Rabbit for champagne and good music, and make friends with the owners and their son. Clare teaches him a secret handshake. We meet Ange back at J&C's house, where we drink sparkling shiraz, dance, and sing as long as we can (Fleetwood Mac, George Michael, Oasis, Duran Duran, the Buffy musical--as you do).
Friday 9.15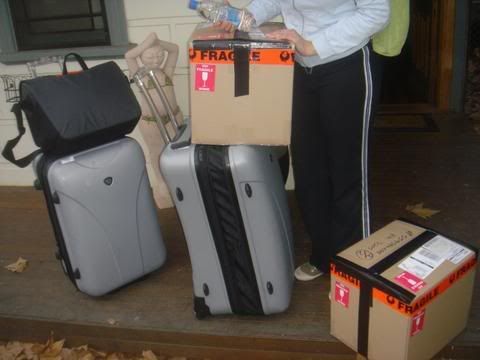 Two big suitcases, two small carry-on bags, two full boxes of wine.
Sam comes to get us at 7 a.m. to take us to the airport. We hug everyone and try not to cry. On the flight back, we stop in Aukland, NZ where we purchase a tiny snow globe to smuggle home with us. We arrive home the same day, exhausted, and go home to hug our dogs.
Epilogue:I miss our friends.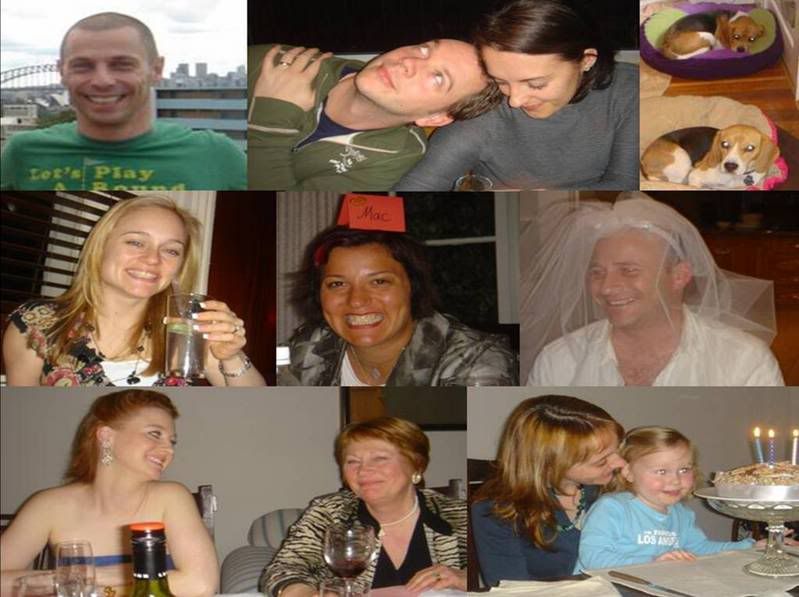 Top: James in Sydney, James & Clare, Chops & Yoshi
Middle: Sarah, Ange, Sutho
Bottom: Vanessa & Dot, Sam & Pippa