mAc & Dinah: The Soundtrack
(We gave these out as favors at our wedding. The cases doubled as programs.)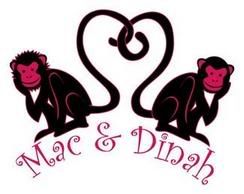 You're the First, the Last, My Everything . Barry White
- If there's a better way to kick off a celebratory mix of love songs, I don't want to know about it, because I think this one is perfect.
You're the Boss . Brian Setzer Orchestra featuring Gwen Stefani
- When I first heard this, I just thought it was a cute, flirty duet between strong-willed lovers. And then I grew up and realized that might a little, um, dirtier? "Well maybe tonight, I'll be the boss. And tomorrow night... I'll be the boss."
Happy Together . The Turtles
- From the
Muriel's Wedding
soundtrack, and one of many anthem-like songs on this mix. I love the change in dynamics on this track the best. I walked down the aisle to another song off this soundtrack--the remix of Dancing Queen.
In Your Eyes . Peter Gabriel
- Because, as Erica says, "What straight woman didn't get moist watching John Cusack holding the boom box over his head blaring Peter Gabriel in
Say Anything
?"
Just the Two of Us . Bill Withers
- This is Amy & Chip's song, but we borrowed it for the mix because it's just so darn sweet and sexy.
Thank You . Dido
- This song was actually featured in
Sliding Doors
before Dido's "No Angel" was released. I expect to get shit for liking Dido, maybe justifiably so, but I don't care. I'm grateful for mAc, and we're grateful for the friends and families that have given us so much. "I just want to thank you for giving me the best day of my life." I danced with my dad to this song.
Such Great Heights . Iron & Wine
- There's a moment in
Garden State
when Zach Braff and Natalie Portman are just laying down, facing each other, enjoying each other and the stillness surrounding them, with this song capturing the moment. A brilliant remake of a great love song.
Come What May . Ewan McGregor and Nicole Kidman
- This style of song is the least us, what with its overblown lite rock Celine-type qualities, but it still gives me goosebumps. I think
Moulin Rouge
is fabulous, and this song is just a pure, unabashed declaration of love.
At Last . Etta James
- One of my all-time favorite songs, period. Now even more so, because it's the song we danced to for our first dance as husband and wife. (And let's face it, given mAc's love of dancing, probably our last.) This song was also featured in
Pleasantville
.
True Love . Pat Benatar
- This one was a present from my friend Mikey many years ago, before I ever met mAc. Today, the lyrics are kind of perfect for us: "I called the man at the video store and said, 'Cancel my membership I won't be needing it no more.' There's a man to occupy my nights and, baby, it's just the right amount of true love." Well, that and he has a collection of over 3,000 DVDs.
Let's Stay Together . Al Green
- Because when I think
Pulp Fiction
, I think of great love songs. Actually, I kind of do. "Son of a Preacher Man" almost made it on this mix as well.
Fever . Peggy Lee
- Was any love song ever so sexy? "We give you fever til you sizzle, but what a lovely way to burn."
Hot
, sweetie.
Oh My Lover . The Detroit Cobras
- My sister Amy walked down the aisle to this song. 'Cause she's cool like that.
Everlong . Foo Fighters
- This is mAc's favorite love song. We also used it for our recessional. I'm crazy for lyrics like, "The only thing I ever ask of you / You gotta promise not to stop when I say when."
All I Want is You . U2
- I've loved this song ever since it made me ache watching Ethan Hawke and Winona Ryder pine for each other at the end of
Reality Bites
.
Can't Take My Eyes Off You . Frankie Valley
- It's like two songs in one: the low-key, yearning love song, and the loud, shout-from-the-rooftops declaration. Teen movie aficionados like myself may also remember Heath Ledger's performance of this number in
10 Things I Hate About You
.
I Melt With You . Modern English
- Because it's the love song at the end of
Valley Girl
.
I Love You Always Forever . Donna Lewis
- I just, I don't know. I just love it. It makes me happy.
Running . No Doubt
- The perfect love song for the couple on the go. No, really. "We're running, running / Keep holding my hand / So we don't get separated."
You're Nobody 'Til Somebody Loves You . Dean Martin
- The
Swingers
soundtrack has several great love songs to choose from, but this one is the one to finish the mix.
So May's mix of the month is both late and mushy, neither of which should be surprising. We were really busy and lovey in May. Of course, I think we still found a way to include some fairly rockin' tunes. We might be in love, but we're still
us
.