The new Foo Fighters album,
In Your Honor
, rocks my fucking world.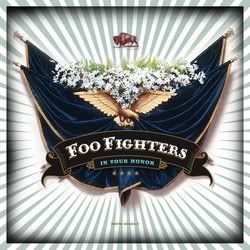 I dig both discs, although I find that I am partial to the more mellow-stylings of the second. Specifically, track 6, "Over and Out." If my life ever becomes a Cameron Crowe movie, that's the song I want on the soundtrack. It's just.... I just want to hug it! Love.
And since I haven't done a CD review since that first one, I'll go ahead and add the following new albums to the list of Love:
Coldplay, X&Y
Gorillaz, Demon Days
Audioslave, Out of Exile
Nouvelle Vague
Bloc Party, Silent Alarm
There, now you know what my CD changer looks like. Now go get yourself some good music.