Around mid-June I flew to Colorado for a conference for work, and stayed the weekend to visit my family. It was so wonderful to see everyone. My mom, who's healing nicely from hip surgery; my sister who happened to be in town from Minnesota; my big brother, my dad; and my nieces, who get bigger and smarter and funnier and sassier every time I see them.
The flight back to LA was at sunset, and I found myself staring out the window at the beautiful orange and blue sky as we departed Denver (we call these "Bronco sunsets" in Colorado). I was thinking about the concept of home, how beautiful the world looks from a plane, how high we were... and how soon I could plug my iPod into my head to drown out the crying baby behind me.
With all that in mind, I snapped some photos of the sky out my window, and created the following mix on the fly, (yuk, yuk!) on my iPod. Some songs are about height, sky and flying. Some are just songs I'm addicted to right now. And some songs just soar on their own.
Such Great Heights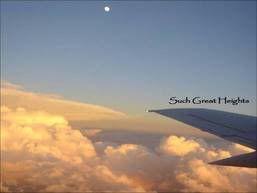 Pretty Girls Make Graves/Something Bigger, Something Brighter
- One of many big, anthem-like songs on this mix. It rocks, it sways, it lets you float and then snaps you back.
The Postal Service/Such Great Heights
- This particular song sounds RAD on headphones, with the synth popping back & forth from ear to ear.
Stars/Your Ex-Lover is Dead
- I'm so addicted to this song. The cellos, the accordion, the jangly guitars, when the girl starts singing at the beginning, the waltz-like time, the big finish. LOVE.
Coldplay/Speed of Sound
- Have you heard the new Coldplay album? It's gooooooood.
Filter/Take My Picture
- The first lyric is, technically, "Awake on my airplane." But
mAc
and I always sing, "Waco my ab shwing." Because that's what it
sounds
like.
Morcheeba/Part of the Process
- This song is basically dreamy electronic country music. If you know me at all you know that if you can mix genres successfully, you WIN in my book. This one includes fun space-like sound effects and a fiddle. And yes, it totally works.
Madonna/Sky Fits Heaven
- This was my theme song for moving to Seattle for love all those years ago. I listened to it on the plane out there over and over and over again. "Traveling down your own road / Watching the signs as you go / I think I'll follow my heart / It's a very good place to start."
Bloc Party/This Modern Love
- My friend
Amanda
once pointed out that this song would have been perfect for that first kiss between Logan and Veronica on the Best New Show EVER,
Veronica Mars
. I totally agree. (Also sounds amazing on headphones.)
Rufus Wainright/Beautiful Child
- Besides mixed genres, I also go bananas for big, dramatic anthems, especially the ones that go for the whole Phil Spector Wall of Sound effect. This particular song is the biggest, most dramatic wall-of-sound anthem I have ever heard. Turn it up!
Nouvelle Vague/Guns of Brixton
- I just can't get over how sexy she sounds when she croons the word "Brixton." Damn.
Norman Greenbaum/Spirit in the Sky
- Always makes me happy.
Shivaree/Goodnight Moon
- In a word? Slinky.
Ryan Adams/Wonderwall
- It's just so sweet and sincere.
Aretha Franklin/Nessun Dorma
- Okay. It's 1998 (pretty sure) and I'm watching the Grammy's at a friend's place. The announcer says that, due to laryngitis, Pavarotti will not be able to perform tonight. Instead, please welcome Aretha Franklin to perform Nessun Dorma. I thought to myself, "Oh, no. I hope this isn't embarrassing for her, I LOVE her." And then I immediately felt ashamed, because I found myself listening to one of the most amazing things I have ever heard in my entire life. It was beautiful, stirring,
soaring
. It was all the lofty drama of opera cradled in the warm embrace of soul. It made all the hairs on my body stand on end; the finale made me weep.
Frou Frou/Let Go
- It helps bring you down from the previous song and has the added bonus of being kind of perfect for flying.
The Golden Palominos/Heaven
- Sexiest. Song. Ever.
Foo Fighters/Over and Out
- I used to listen to the Foo Fighters' "Learn to Fly" when I'd travel. But these days I'm addicted to the new album, and I can't get enough of this song.