Last week, mAc and I were in Hawaii. Which was fun to begin with, but wait! It gets better. On Tuesday night, I got to tag along to the DVD release party for Lost.
First of all, if you're not watching
Lost
, you should change that. Start by getting the Season 1 DVD (drops September 6), take a day off work and marathon your way through them, enjoy all the easter eggs and special features, and you'll be all set for Season 2. Trust me, you won't regret it!
With that out of the way, let me tell you about this event. It was
insane
. It was set about 10 minutes away from this resort on the North Shore of Oahu... in the middle of the jungle. They drove us out there in long, hitched-together golf cart-like things that were all tricked out like Oceanica airlines, complete with cute flight attendants in suits who gave us pretzels and humorous spiels throughout our journey. When we "landed," we walked down a tiki-torch lit path while the show's mysterious mechanical-sounding monster haunted us from speakers set deep within the trees.
The party itself was just sensational, and I'd like to take this opportunity to give major props to the geniuses at Buena Vista Home Video and
Paradigm Shift
for really outdoing themselves with this event. For those of you who watch the show, you remember the scene with Walt and the polar bear, with the big-ass banyan trees? That's where we were. It was wicked cool. The decor included huge, oversized asian paper lanterns in the trees, hand-made cocktail tables, and even a replica of the busted fusilage, set behind a stage where local favorites SLUG rocked the jungle with classic rock covers. (Our flight attendants did double duty as go go dancers.) Open bar featured the "Lostini" and the "Driveshaft" and I stuffed myself with sushi and skewers to help absorb the alcohol. For dessert, we toasted s'mores on the beach. How dreamy is that?
Speaking of dreamy, the Lost cast? So much hotter in person. Oh mah damn, they are some pretty, pretty people. I saw almost everyone, and briefly met Evangeline (Kate) (I complimented her 60's-style mini-dress and white go-go boots), Matthew (Jack), Harold (Michael), and Josh (Sawyer).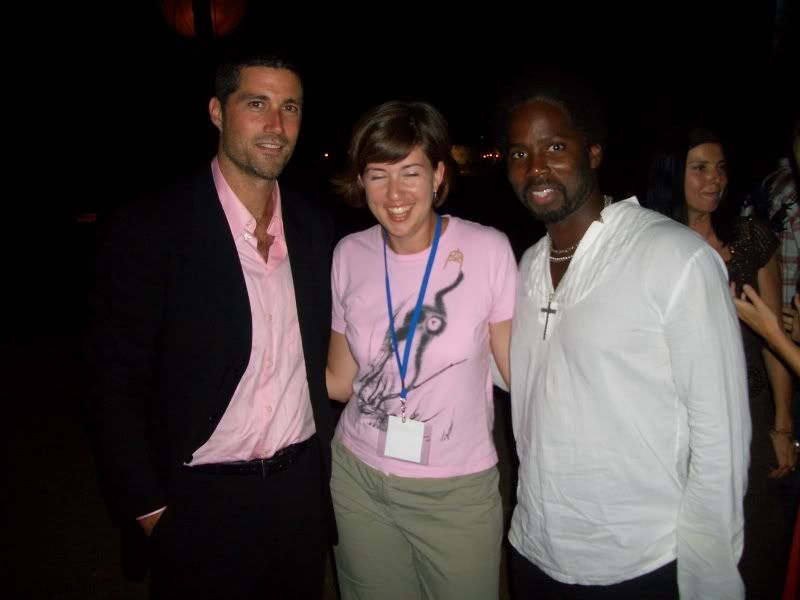 Josh was waaaaaaaaaaaaaasted. I mean, the whole cast was a little, um, lubricated and/or stoned, but he was really having a fabulous time. Not obnoxiously so, just a happy, funny drunk. Our introduction went like this:
Me: "Hi, I'm Dinah."
Josh: "Diana?"
Me: "No, Dinah, like Dinah Shore?"
He flops his arm around my shoulder looks at my friend who's taking the picture and goes,
"I have no idea who that is."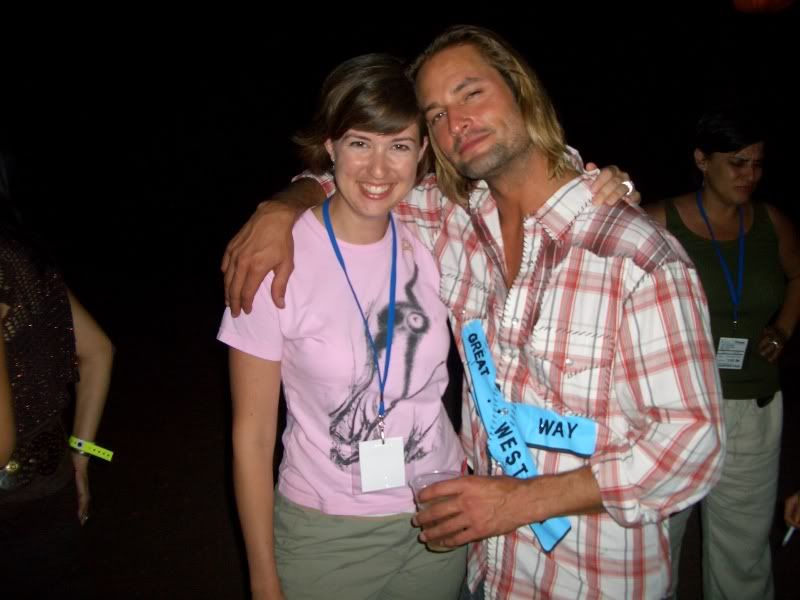 After the photo I tried "Someone's in the kitchen with," which he not only knew, but enjoyed singing to me in that cute, sloppy way that a happy drunk person has. And then he got distracted by something shiny.
Overall, a brilliant, fabulous evening. According to the staff and press, everyone was really nice, accommodating and easy to work with. No drama queens, no bitches, no fits, no nothin'. It always makes me happy when I discover that my favorite actors/bands/whatever are actually nice and cool in person. They so often are not, you know?
p.s.
Much love to my new friends Laura, Deb, James and my fellow co-founder of the Buena Vista Wives Club and new BFF, Ryan. Kisses!