Happy Monday everyone!
Today, I'd like to use my power for good, in so much as I have power or more than a handful of readers. (Hi mom!)
But I'd like to do something special today. My good friend Julie is walking The Breast Cancer 3-Day Walk in Tampa Bay, FL in October.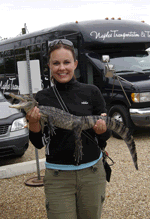 It's a
60-mile walk over the course of three days
. Which, first of all, WOW.
She and her teammate, also named Julie, have also committed to raising a whopping $10,000
. Net proceeds will benefit the Susan G. Komen Breast Cancer Foundation and the National Philanthropic Trust, funding important breast cancer research, education, screening, and treatment.
Why is this important? Because if think about it for even 5 seconds, you'll find you're less than 6 degrees from a woman who has experienced, fought, survived, or even succumbed to breast cancer. It's so common. For me, I think of my aunt and my best friend's mom. And I think of my cousins and my best friend, because heredity can increase a woman's chances of developing breast cancer. I think about me, actually. It's not out of the question, we never know, and all we can do is
1. Do regular exams, both self-exams and regular doctor visits.
2. Continue to do whatever it takes for a cure.
In Julie's case, that means walking. And walking and walking and walking, evidently. She's training her ass off, and charting the progress in her blog,
here
. She's also raising a truckload of money, and
I'd like to invite anyone who's reading this who knows a woman or is a woman or just enjoys the boobies (you know who you are) to chip in, even if it's only $5
.
Thanks everyone! You're the best blog readers EVER!