I find I have a hard time putting a finger on my style. Is it California casual chic? Or does it adhere more to Seattle's "rock 'n roll professional" aesthetic? Certainly my draw to boots, chunky belts and stylish coats is a holdover from my Colorado days. Or is it regional at all?
Whatever it is, I've been having fun shopping lately. Color is back! I remember roaming into stores over the last couple years thinking, "Beige and gray? Are they serious? I'm an autumn, dammit!!" But now, man, you roll into these joints and they're all Red! Royal blue! Emerald Green! Mustard Yellow! Rich earthy colors and jewel tones as far as your wallet will take you! Hurrah!
More than clothes, though, I love accessories. I found a shop that carries really cute shoes in wide sizes, as well as an affordable shoe repair shop near my house, so I'm finally getting excited about shoes. My collection of beautiful necklaces & pendants is an abundance of pretty, and I love dressing up coats and jackets with a fun brooch.
The whole reason for this post, though, is that I have two items that never fail to draw compliments and get people asking, "Where did you get that darling thing?" And since I do not fancy myself too original to copy, I'll just tell you.
1.
The Pretty Silver Necklace
: I can not take credit for picking this out, as it was a birthday present from my friend Erica. Her taste in clothes is almost exactly like mine (only better), and her taste in jewelry is impeccable. Anyway, this necklace is absolutely beautiful, and never fails to receive compliments.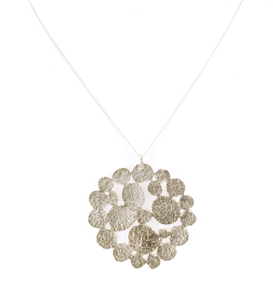 Where to find it: On Robson St. in Vancouver, if you're lucky enough to go, at a store called Blue Ruby.
They also have a website.
Go through the Mimi & Marge collection until you find the "Soda Dot Necklace." There are also matching earrings and a matching cuff if you're into the matchy-chatchy thing.
2.
The Groovy Printed Clutch
: I found this prize in Austin, at a store that specializes in Austin designers. When I got home, people kind of freaked out over its retro-like fabric and clever design. I mean, I went to get my teeth cleaned, and even the front desk staff and my hygenist were all, "Oooh, so cute! Want!"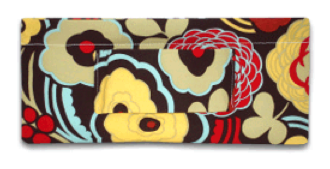 Where to find it: the
Kailo Chic web site
. The name of my purse is "The Mocca," but you can find it in a whole variety of cute, vintage-y fabrics. The real draw with this clutch is the little strap on the side that you slip your hand through to help hold onto the bag.
So, there you go, the two most-complimented components of my wardrobe, available for appropriation at reasonable prices. Plus, now you have a couple sites to bookmark for the women in your life who appreciate artistic, well-made things.