Yes, I know it's March. That just means three mixes back to back, right?
So, January. This month's mix was a Christmas present from my big sister Amy, the same sister who made me my very first mix tape so many years ago. She introduced me to Jane's Addiction and Neneh Cherry and the Tom Tom Club. She has excellent taste in tunes.
She actually made three mixes for us all this year:
Run
,
Stretch
and, our feature today,
Fiddle
. She even wrote liner notes, because she knows how madly I love them. In fact, her writing is generally better than mine, so without further ado, I present to you,
Fiddle
"The violin is a diva instrument--it sings and does guitar solos and wants attention. So mixing it into pop music can be challenging. Where is the aural space for violin when guitars and vocals are the usual leads?
"Fiddles are commonly used in string orchestration--big swells of string choruses you hear in Motown music and the Phil Spector 'Wall of Sound.' Check out
Be My Baby
by the Ronettes: Ronnie's voice cuts through fluffy layers of strings played in echo chambers. Yum.
"David Bowie uses the violin in a stripped down, beautifully recorded string section on
Life on Mars
.
"Most of the songs on this mix, however, feature the violin or fiddle in the songs or the bands. When I started listening for violin in pop music, I heard it everywhere, especially in some modern alternative rock bands. I heard it so much I trimmed the playlist back to the best songs, best bands and best use.
"But bands from the Bats to Eminem are featuring at least a fake violin lately. There is even an entry in Wikipedia about 'violindie' rock. The Dambuilders are the nineties precursor to theis trend.
"ZOX is a young ska punk band with a cute guy jumping around with a violin. Andrew Bird Studiously uses violin in his releases. I like his solo work but I love his collaboration with the Squirrel Nut Zippers. There are country tinged fidle songs from the Dixie Chicks who make fiddle look hip and pretty, some roots rock and the Gorillaz use of a Suzuki classic. Dinah makes a cameo on the Brits song (I wish the violin was mixed higher).
"And of course there's that 70s classic,
The Devil Went Down to Georgia
. Could I have left that out? Nope. Plus it's only one of many devilishly good songs on this mix."
~Amy, Christmas 2005
1) Paper and Fire - John Mellencamp
2) Drive By Kiss - Dambuilders
3) Mississippi - Sheryl Crow
4) Li'l Jack Slade - The Dixie Chicks
5) Queen of the Surface Streets - Devotchka
6) Richard - The Geraldine Fibbers
7) Life on Mars? - David Bowie
8) Summer Skin - Brits Out of America
9) Travelin' Soldier - Dixie Chicks
10) Part of the Process - Morcheeba
11) Be My Baby - The Ronettes
12) Blue Angel - Squirrel Nut Zippers
13) Thirsty - ZOX
14) A Nervous Tic Motion of the Head to the Left - Andrew Bird
15) The Devil Went Down to Georgia - Charlie Daniels
16) Left Hand Suzuki Method - Gorillaz
Thanks so much Amy! I love it!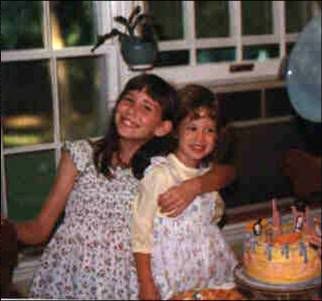 Amy and Me circa 1979