It's actually kind of hard for me to deal with this after the fact. Sober. Last week in Miami we went out as a group from work for dinner and drinks on South Beach. We started off at Gloria Estefan's restaurant,
Lario's
. Which, meh. The mojitos were alright but overall I've had better food. With the exception of the flan. Every other flan I've ever tried? Disgusting. For whatever reason, Gloria's flan is divine.
Following dinner we went to the ONE CLUB I DID NOT WANT TO GO TO. We had passed it on the street earlier and I think I actually said out loud, to no one, "There's one place I'll never go, EVER!" Yeah. I ate those words shortly after finishing my flan.
The place is called
Mango's
. It's gross. It's supposed to be this vibrant South Beach hot spot, but it's just gross. For starters, the outfits on the staff are completely embarrassing. I mean, they employ these hot beefcake guys and cute girls with cute figures, and this is what they make them wear: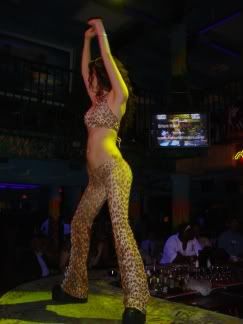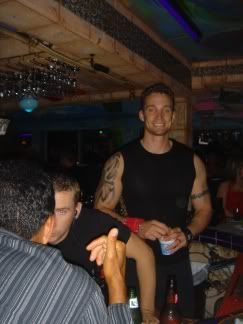 Further, they make them get up and dance. I got video of the girls dancing by accident (about 12 seconds and you have to tilt your head to the left to watch it, so a picture will have to suffice).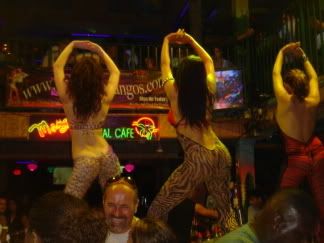 But suddenly I realized, "I can get this shit on video! In all it's tacky glory! Hurray!" Suddenly, I was having fun. At Mango's. Especially when three of the Mengo's got up and started shakin' it. Yeah, I got it. Yeah, that's me yelling ("This is so going on YouTube.") Yeah, I'm ridiculous.
Whatever. I was at
Mango's
. I had to find the fun somehow.
But seriously? This is so obnoxious.