My sister recently sent out the following pictures of my baby nephew.
Paul watches the game...
...And learns early what it means to be a Vikings fan.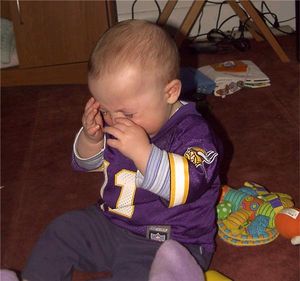 I know, we're a mean family. Babies cry, and we not only don't comfort them, but we laugh at them, then take pictures and share them so that everyone we know will laugh at them too. But you know, we were all raised Vikings fans, and damn. That's just funny. Besides, it could be worse...
We could be Packers fans.