It seems I've been making and receiving a lot of mixes lately, so I've decided to start sharing them. For example, for my friend Amanda I recently put together a collection of tunes I thought a modern indie princess such as herself would like. May you be reminded of music you love and inspired to share it with your friends.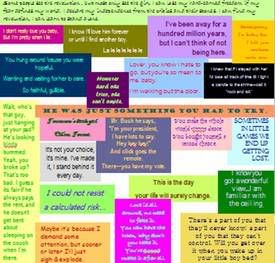 1. One Girl Revolution/Superchick
- Yeah, it's the same one from the JC Penney ad. But I love the 60's spy-movie sound of this tune, and I really love lyrics like, "I could lose my hard-earned freedom if my fear defines my world." I don't care how cheesy it is--this song kicks ass.
2. Hourglass/Brits Out Of America
- BOOA is my sister Amy's band. If you were into the Twin Cities local music scene in the late 90's, then you probably saw them. You lucky, lucky person you.
3. Honey/The Marine Girls
- This song pretty much defines my attitude when I was single, especially lyrics like, "I know I'll love him forever or until I find another boy." It sounds mean, but it's a super-cute song, and you can't help but sing along.
4. No One's Little Girl/The Raincoats
- I love a good juxtaposition in a song almost as much as I love mixed genres, and this song does just that. It's both dreamy and defiant.
5. Teenage Loser Anthem/The Dambuilders
- I used to play the violin, and back when I was really good (waaaay back) I used to dream about ditching the Denver Young Artists Orchestra in favor of a kick-ass rock & roll band. But even when I later found a band that wanted a violin in it, they only wanted me for, like, 10,000 Maniacs covers. Booooring. But I would have forsaken Mozart forever to be in a band like The Dambuilders, and that's saying a lot.
6. Bohemian Like You/Dandy Warhols
- Remember when you were younger and hipper and everyone you knew was trying to "out-indie" each other with how cool and alternative their lifestyles were, and you were attracted to people who, in reality, were probably Losers except that, you know, they were in a
band
? This song is about that. I must have out-grown that whole phase, 'cause I think this song is hilarious.
7. Go Lambs GO!/The Soviettes
- It's cute, it's boppy, it's pro-choice. What's not to love?
8. Lover/Sonia Dada
- My niece introduced me to this song. Imagine a 4-year-old singing, "Loverrrrr, lover, lover. You don't treat me no good no more" and you'll get the idea. Great sing along song, child-appropriate or not.
9. Easier to Cry/Detroit Cobras
- Amy walked down the aisle to the Detroit Cobras when she got married. Not this song, though. This one's for anyone who's ever dated the wrong boy, got your heart broken by said boy, and let that bastard make you cry anyway. It's okay, honey. This song is here for you.
10. Cherry Lips (Go Baby Go!)/Garbage
- I love that Garbage started using big Spector-like chimes & shit on their beautifulgarbage album. If you were wondering if you could combine bright, electric pop with heavy rock guitars and chimes successfully, then wonder no more. It's all here.
11. Pleasure of Love/Tom Tom Club
- This is the song about the girl who likes the alterna-boy in the band, and he turns out to be sweet and commitment-ready, so they get together and live happily ever after. So it's a work of fiction. But it sure is pretty.
12. Love U Doll/Brits Out Of America
- I'm not sure Amy even knows why they wrote such impossibly intricate melodies and harmonies, but it's fascinating to hear how a complex structure can elevate even the most straight-forward of poppy love songs. Amazing.
13. Sigh and Explode/The Undertones
- My friend Misha used to sing this to me when we were in jr. high and I never knew who it was until I tracked it down just recently. I don't know why there are jangly "old west saloon" pianos on this track, there just are, okay?
14. Tomorrow Comes/Edie Brickell
- My friend Mike loved this album so much in college he borrowed it and never quite gave it back. I had to buy it again, but it was well worth the double-investment. More folky than her stuff with the New Bohemians, and this track is way more sassy.
15. David/Nellie McKay
- Big thanks to Conrad for putting this on a mix for me; bigger thanks to NPR for introducing him to Nellie McKay in the first place.
16. Shrine/The Dambuilders
- It's about the shows, the people you meet there,
it's about the music, man
. An ode to rock & roll.
17. Matt's Song/The Soviettes
- Again, the politically motivated Soviettes tackle a tough subject (um, date rape) and turn it into a great pop song. No, really. It's really good.
18. She Be Wantin' It More/Luscious Jackson
- OLD school Luscious Jackson: mellow, funky, poetic, fierce.
19. Hollow Girl/Fuzzbox
- I once put this song on a Buffy mix because I thought it captured the resurrected Buffy of Season 6. I just think it's a beautiful, haunting song. Gold stars for anyone who was listening to Fuzzbox in the 80's.
20. Pretty When You Cry/VAST
- This song is kind of mean. Okay, really mean. It's also dark and sexy. It appeals to the selfish bitch in me, plus it just sounds really good loud, and that's always a good thing.
21. This Is The Day/The The
- Just a little something to help recover from the previous track. Looking for a positive boost to get your day started? Try
The The
. Could be just the thing.
22. Love Is All Around/Joan Jett
- Now toss your beret in the air, baby, because you are fabulous and deserve everything good that's coming to you.