Ah, l'amour.
February's mix of the month was a Valentine's Day gift. Now, traditionally,
mAc
and I don't do up the Hallmark Holiday real big. (You may remember
the grocery store goodies we exchanged last year
.) This year, I gave mAc something I'd ordered in September that I thought would show up for his birthday in November... then maybe by Christmas in December... Finally, it showed up a week before Valentine's Day: A Phase Plasma Rifle with a 40 Watt Range. Make sure you get your Schwarzenegger on when you say it.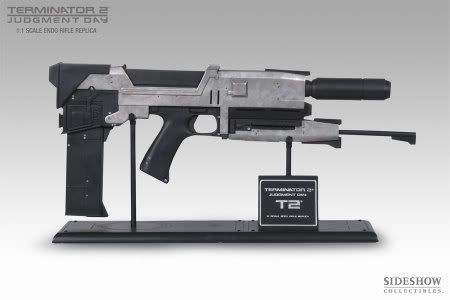 Little did I know, however, that mAc's gift for me would blow me away
even more
than a prop replica gun from
Terminator 2
. Because, my friends, that's just how much a good mix CD means to me. And this one came with a cute case that totally looked like he wrote it up in his notebook during fifth period, and it's all just so dreamy. And, finally--in the 6 plus years we've been together, this is the first mix he's ever made me. I KNOW.
It's so good, y'all. Check it out.
mAc's Locker Combo: 02-14-06 (memorize and destroy!)
1. DOA - Foo Fighters
2. Sexy Little Cuts - Temper Temper
3. Saturday Night - Surferosa
4. Gold Lion - Yeah Yeah Yeahs
5. King of the World - Angelfish
6. No One Really Wins - Copeland
7. Modern Way - Kaiser Chiefs
8. Cash Machine - Hard-Fi
9. Run Baby Run - Garbage
10. This Isn't It - Giant Drag
11. Everyone is Someone in LA - Felix da Housecat
12. DARE - Gorillaz
13. Galvanize - Chemical Bros
14. The Hand that Feeds - NIN
15. Tits on the Radio - Scissor Sisters
16. Touch the Sky - Kanye West
Thanks so much baby! If you'd like to add some liner notes, the Comments box is all yours.